Monday, January 17, 2005
This morning we decided to change our ferry reservations. We were initially scheduled to leave at 3:30 Bintan time, but thought that would get us back to Singapore a bit late for the evening treks we had planned. Even though Bintan is a bit east of Singapore, the time is one hour earlier, so leaving at 3:30 Bintan time wouldn't put us in our hotel until around 6:00 Singapore time.
Our decision was made much easier by the fact it was raining, and raining hard. Since we weren't doing a whole lot, however, we didn't have to change any plans.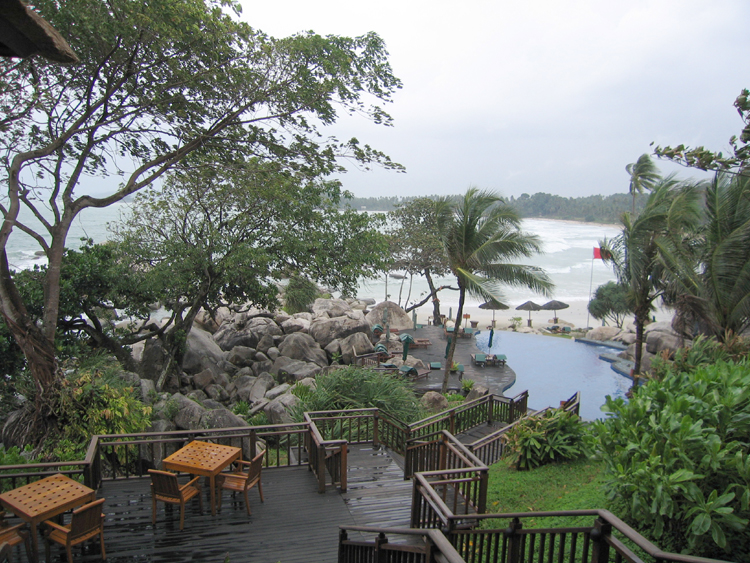 Breakfast had bacon today, which seemed a little odd. We understand Indonesia (apart from Bali) to be more Muslim than Malaysia, yet pork was available, and we realized that unlike Malaysia none of the women (even in the villages we went through the day before) were wearing head scarves. Anyway, the bacon was good.
Since it was raining, we just lounged around the hotel room, catching up on the diary and packing for Singapore. We lounged a bit too much, however, and had to "rush" through lunch – we still got dessert. We were running a little late, however, and took our bags to the lobby and checked out in short order. We left the resort at 12:45 for a 1:30 ferry. We were a little concerned, as although we knew the drive would be short, we had no idea about getting tickets, going through security and customs, etc. – especially in light of the fact we had changed our ferry reservations.
But when we got to the ferry terminal, the Banyan Tree people had already gone to the ticket counter and had them physically sitting on the counter for our arrival, they took our passports and our luggage, and told us to sit down in the VIP lounge. 5 minutes later they brought us our carry-on luggage and our passports, along with an immigration card already filled out for our arrival in Singapore. 5 minutes after that we got on the ferry, and it was probably another 5 before the general public got on. The boat was a lot rougher this time around, because it was still stormy, although seemingly clearing up. We were both fine again, however.
We caught a cab to the Oriental Singapore. When we were deciding where to stay in Singapore , we couldn't decide between the Oriental and the Shangri-La. When we decided to take a weekend side trip to Bintan, our time in Singapore was split 3 nights pre-Bintan, 2 nights post-Bintan. We decided to stay at both the Shangri-La and the Oriental since we'd have to pack up anyway. We also scheduled our events to be close to the hotel we'd be staying at, since the hotels are in different parts of Singapore and our events were closer to one hotel than the other. We had a little problem with the cabbie, since we thought the hotel was "Mandarin Oriental" instead of just "Oriental." The cabbie caught Mandarin, and took us to one of the many "Mandarin" hotels in the city. Luckily it wasn't that far away.
The Oriental recently underwent a major refurbishment project, and opened again on December 1. It's still not fully operational– several of the upper floors are still being worked on. It was kind of a ghost town, and the fact that it was redone with very contemporary blacks and grays didn't help. Our room was on the 6th floor (634), the lowest for guest rooms, and our "ocean" view looked out over the pool – it wasn't really high enough to see out to the ocean. It had been a little over a week, so we did some laundry – in the future we'll pay the fine for the extra heavy luggage.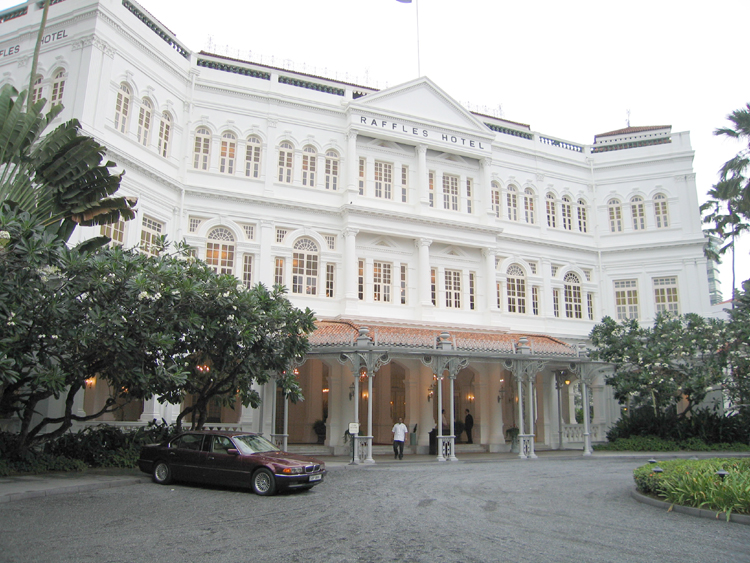 We took a walk over to the famous Raffles Hotel, where the Singapore Sling was conceived many years ago. It was supposed to be a short walk, but because of one way streets with no sidewalks and construction zones, it took a good while, with several underground paths to cross streets. We did make it there eventually, just before it started raining again. We read (and were told) that the dress code at the Long Bar was "smart casual," as it had been at some of the other places we'd been. Smart casual basically means no shorts or flip flops, or as we thought, also jeans and tennis shoes. We weren't overdressed, but we could have been more comfortable. Anyway, the bar was nice, we drank our Singapore Slings – Justin liked his, Crystal had her first and last. We also enjoyed eating the peanuts and throwing the shells on the floor – seemed out of place for Singapore.
Since we were wearing our uncomfortable shoes, we took a cab back to the Oriental. We changed into more casual clothing, then went out walking to the Boat Quay. The quays (pronounced keys) are old abandoned riverfront buildings that were converted to bars and clubs in the early 1990s. Because of their riverfront location, they are quite popular with the young and hip crowd, which we satisfy half of. Before we left the hotel, we tried to get an idea of what was good and bad, and one place we read about was Molly Malone's, an Irish pub that was reconstructed piece by piece in Singapore from pieces sent from Ireland.
After meandering around the Boat Quay, we decided on Molly Malone's – nothing else around looked better. Most of the white tourists were at the Asian clubs, and most of the locals were at the English and American clubs. The food and drink was quite good, but it seemed a little odd to be eating at an Irish pub in Chinatown in Singapore. In any case, we enjoyed ourselves, which is all that mattered. Going to and from the Quays we took the Queen Elizabeth Walk, which more or less parallels Esplanade Drive on the north side of the river. It was called out in the travel books as something worth doing, so we expected something special. It wasn't anything special, but it was a nice walk. In general it felt very safe walking around Singapore – probably safer than San Diego in fact.