Sunday, January 30, 2005
We got up, showered and packed for our trip home. Our bags were heavily tagged by this point, so we took a commemorative picture. At breakfast we talked about our favorite days of the trip, but it was hard to pick one because literally all of them were enjoyable. Two that stood out a little bit, however, were the days at the Dolphin Lodge in Indonesia and Phang Nga Bay. Coincidentally, these are the only two days we got sunburned. We actually spent most of our last breakfast watching a bird that was stalking the lily ponds. We had watched it the day before, but we were closer to it today. It's walk was really funny, it was very calculated, as if in slow motion. It would sit on the edge of the pond, feet curved halfway around the ledge, sitting for minutes before quickly snapping into the water. Justin tried to sidle up on it, but he wasn't nearly as stealth, and the bird kept flying away before he could get a close-up shot.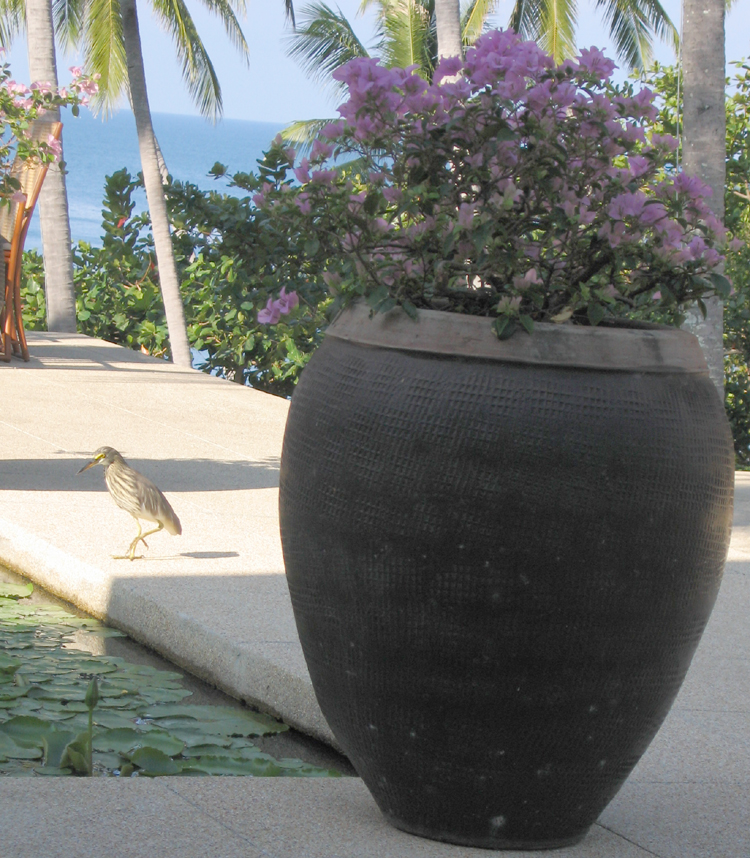 At check-out, we made sure to tell them we were aware of the 50% discount, and they readjusted our bill. We think they were going to keep quiet to the people already staying at the resort, before they announced the discount, but since we asked they changed our bill.
On our way to the airport, we noticed a lot of people out again, at the local markets. There was no one at the Phuket airport. The flight at our gate prior to our flight went to Bangkok – it had a total of 14 people. Ours had a few more people, but was still very empty. We were kind of antsy the entire travel day, because our connecting flights were a little close for comfort. Cathay Pacific's advertising for the flight from Kuala Lumpur to Los Angeles is a little deceptive. While its clear that there is a stop in Hong Kong , its not at all clear (at least to us) that its not the same plane, and that they won't hold the flight from Hong Kong to Los Angeles if the flight from Kuala Lumpur is running late. Since the changeover time there was just over an hour, we were worried about getting stranded there.
Our first flight was uneventful, and on time. The views of Phuket after taking off were gorgeous, heading south along the west coast the island. We think we saw the resort, but since most of the pavillions were in the middle of a coconut grove, it was hard to tell. Back at the Kuala Lumpur airport for the third time, we remarked what a nice airport it was. We took a tram ride over to a different terminal, and on board with us was the flight crew of a KLM flight. It was very funny, as all the women on the tram were either 4'10 or 5'10, and all the guys were either 5'4 or 6'4. At the terminal, we saw the Harrods again (no soccer players or French military this time), but we also saw a second restaurant, which we hadn't seen the first time. Needless to say, we were a bit perturbed at this, but mostly we found it amusing. Although we were hungry, we were trying to get our eating times back on Pacific time, so we just waited for our flight.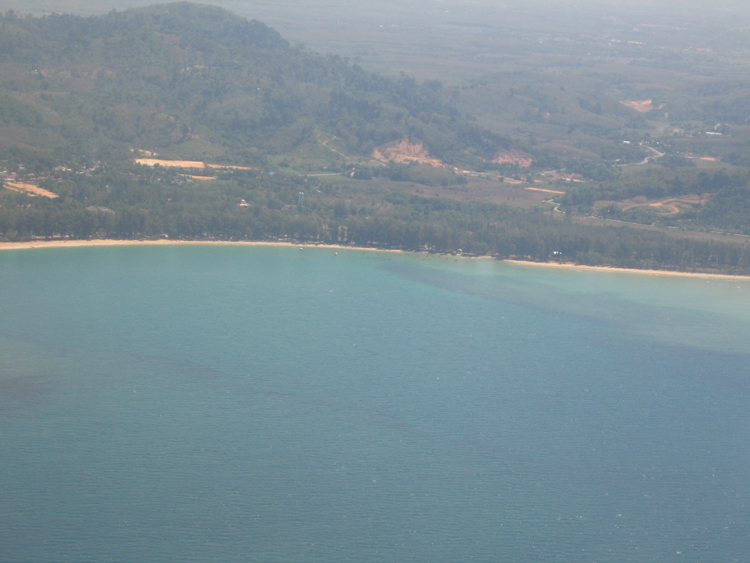 We sat in front of the Cathay Pacific connections booth for a long time, and every time we went back to see if we could get our boarding pass, the response was "15 minutes." Once we were within an hour of the flight time, the Malaysian airlines representative (which jointly operated the Kuala Lumpur-Hong Kong part of the flight) got us our boarding tickets himself. Justin got in line about 30 seconds before a horde of 30 travelers on a late-arriving flight from somewhere ran to the booth. There was one really pushy lady who was doing everything but hopping over the booth, but it was pretty clear that the connecting flight was already gone, so nothing was going to help.
The flight to Hong Kong left on time, so we were pretty sure we'd be okay for our flight back to Los Angeles. We landed in Hong Kong, then made a mad dash for the connections booth to get our boarding passes for the flight to Los Angeles. It ended up being the same connections booth where we attempted to square away our connection to Kuala Lumpur when we flew in. We got our seats (one right behind the other), then made another mad dash through the massive terminal. We were actually walking faster than people who were walking on the moving walkway. We got to the gate about five minutes before they started boarding, and we were actually the first couple people to board since when we got to the gate we just stood in line where the boarding started from. Crystal 's legs really hurt from the brisk walk, probably because she had been sitting still for hours and then went full speed for about 10-15 minutes straight.
Once on the plane to Los Angeles, we had to wait about 30 minutes because someone didn't board the plane, and they had to find his luggage and remove it from the plane. The flight back was uneventful, and it went by fast because we slept a good deal, even though we were trying to avoid doing so. Back in Los Angeles, we went through customs without any trouble, got our rental car, and were on our way. Justin had to remember how to drive – he hadn't driven anything in over three weeks, and since they were out of mid-sized vehicles we got some massive Buick. At least everything fit easily in the trunk.
Back at home, the dogs were very happy to see us, but actually seemed more surprised than anything. Debo was the happiest when we rescued him from the vet the next morning. Amazingly, our sleep patterns were perfect from the first night, so we got back to the grind without any ill-effects.
It was a great trip, and we'll certainly be going back. We recommend everything to everyone – how's that for a ringing endorsement?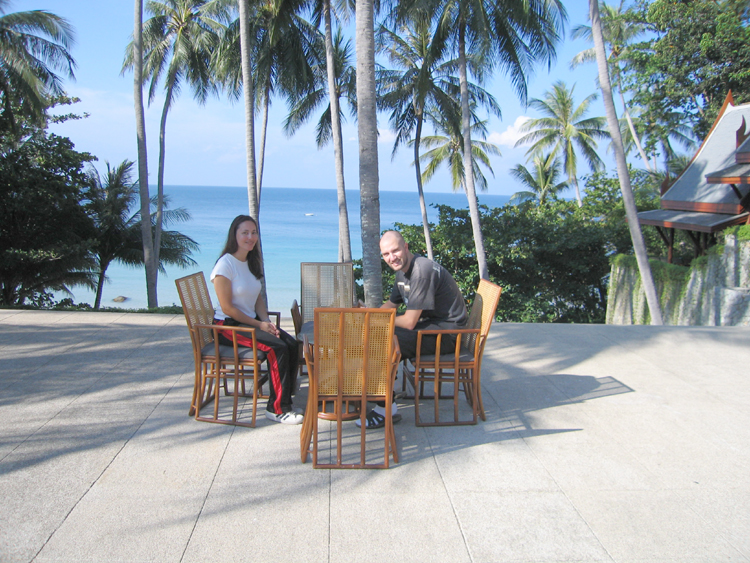 Justin and Crystal