Wednesday, January 19, 2005
We got up and packed our things – we have gotten very good at this. We ate breakfast – the service at the Oriental all around, including breakfast, was a noticeable notch below everywhere else. We checked out, noting the problems with the service, the TV volume, and a two inch high step in between the bedroom and bathroom that someone is going to break a toe on at 2am one night. Perhaps things will be better there the next time we go to Singapore, considering the refurbishing isn't done yet. We're not sure if we'd stay at either the Oriental or the Shangri-La again – the Fullerton Hotel is right at the corner of Esplanade Blvd and the river in a fantastic location, and we were told the rooms were great. The Fullerton used to be an old post office that was turned into a hotel – sounds intriguing.
We took a short ride from the Oriental to the train station, and prepared to board the Eastern & Oriental Express. When we initially planned our vacation we planned to take the train, we later took it out, but then put it back in towards the end, figuring that there aren't very many opportunities to take the Orient Express, and of all the routes this one looked the best and we would be heading from Singapore to Bangkok anyway. We had to plan our trip around the train ride, which always leaves from Singapore on a Wednesday and arrives in Bangkok on a Friday. Since we wanted to come home on a Sunday, this meant either 2 or 9 days in Thailand , and we chose 9.
The train station itself was nothing special, but the train was immaculate, and much longer than we expected – 22 cars. Our room (K4) was very small, as expected, but had enough room to store everything with room left to relax. We took our Crystal 's iPod and started playing some tunes – a little gangsta rap – somehow we think we're the only ones on the train who listen to this sort of music. There were maybe two other couples under 40, then of those remaining couples the median age was probably 65. And of all the couples, there was one Asian couple and everyone else was white – very unlike everywhere else we'd been, even the Banyan Tree Resort.
We were out of Singapore in 30 minutes (it's a very small country), and then had to go through immigration in Malaysia. We got to check the "no" box when asked if it was our first visit to Malaysia. Right as we were leaving immigration the fire alarm went off, presumably not because of anything we did. We got back on the train and started going through the Malaysian countryside – lots and lots of oil palms and rubber trees.
At lunch we were at a table for 4 – they had asked us if we were willing to share a table to save space and we felt sociable so we said yes. At our table were Jeff and Linda from Portland, Oregon . They were one of the other couples under 40, and also had no kids (hence the money to afford the trip) and a dog (just one, though). We got along fine and enjoyed our lunch – Justin had the forethought on his form asking about dietary conditions to state that he was allergic to fish and seafood – so his lunch was not "tainted."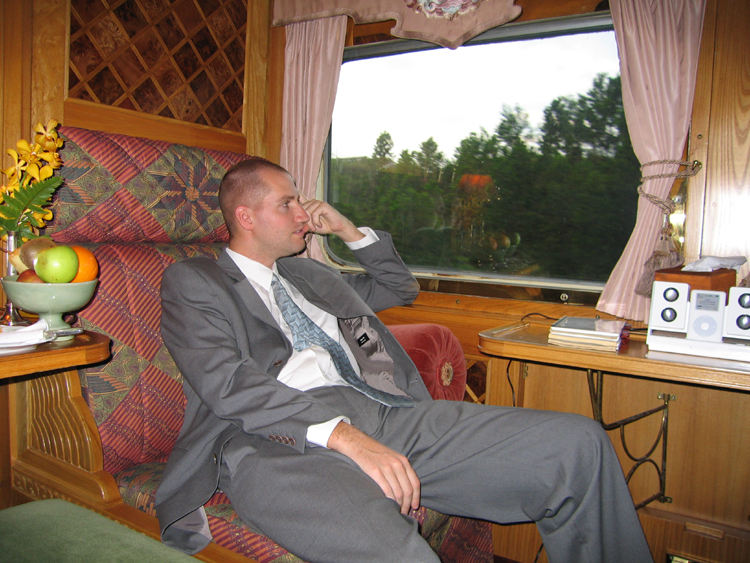 After lunch we went back to the observation car at the back of the train, then went into the drink car and had some cocktails while playing Travel Scrabble. Justin then caught up on the diary while Crystal caught up on some shut eye. We got dressed for dinner, we ate with Jeff and Linda again, all frantically eating so that we could get a chance to examine the Kuala Lumpur skyline during our 45 minute break there. Unfortunately, most of the train station is covered, so there's almost no view. We came back and finished our meal (dessert was all that was left), then headed back to our car to go to sleep. But when we finished getting ready for bed, the train had left the KL train station and we realized there were some great views to be had. So we hurried back to the observation car, and only after being there did we realize that we were the only ones who had changed from dinner. It was slightly embarrassing, but no one said anything and not very many people saw us. We came back and went to sleep – sort of. It was very hard to get any decent sleep with the car shaking around and all the noises and rattles that accompanied the shaking.