Tuesday, January 25, 2005
We ate breakfast in the hotel, then caught a Sangtao to the Nong Nooch Gardens office in Pattaya. There was a medium sized group of people there waiting to go to the gardens (or more likely to the cultural show). We got onto two buses that headed off towards Nong Nooch, about 15 minutes south of Pattaya.
Justin had wanted to come to Pattaya specifically to go to Nong Nooch Gardens. It is a relatively new garden, started something like only 25 years ago. Most of the money was poured into it by some eccentric guy who wanted to build a world-class garden in the middle of Thailand . All reports are that he has. Justin knew about the garden because on websites with pictures of palm trees, the odds seemed to be 50-50 that the picture was taken at Nong Nooch. He then read up on the Garden and found out it was in fact a world-class garden, so when we planned this trip he decided to make a side trip to go visit it. We decided to visit Pattaya, as opposed to take a day trip from Bangkok, because it wasn't that close and Justin wanted to spend pretty much the whole day there.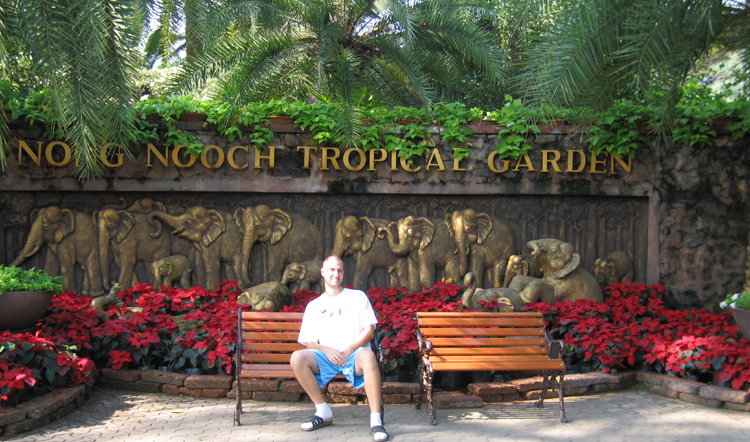 Finding information on it the travel books, even the Thailand-only travel books, was next to impossible. Those who had anything at all on Nong Nooch referred to it as a place to see a good cultural show – oh, and there was a garden or something there too. Unbelievable.
On the bus ride over there, we noted a problem that Justin had wondered about for awhile. We speak English, and so most everywhere we went people spoke at least a little bit of English, so we could communicate enough to get by. Justin had wondered about people who spoke, say, Spanish or Swedish or German, but no English. How would they communicate with someone who spoke Thai or Malay and only a titch of English. On the bus, the travel guide was explaining to us where they would drop us off, where they would pick us up, what shows there were, etc. Then she came around and talked to every person (or couple) on the bus, giving them some tickets, making sure they knew where on the map the point for pickup was, etc. Well, some of the people spoke German only – lots of finger pointing, nodding, and smiling.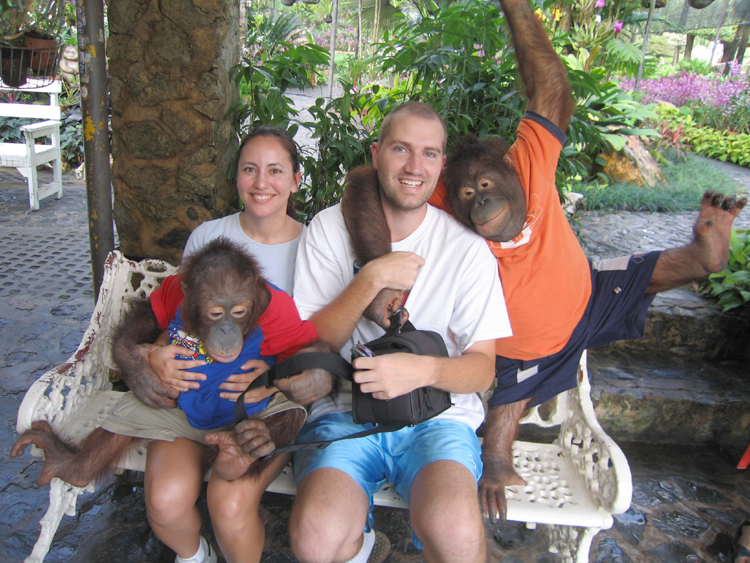 When we got there, we found out that for 50 baht ($1.25) we could get our picture taken with a host of animals, including a black panther, a cheetah, a sun bear, some parrots, and some orangutans. This sounded way cool, so we made our way over, but so did everyone else. We tried out the black panther (not very tame at all – it kept pawing at its trainer), and the orangutans, but there were way too many people, so we decided to try back later. The orangutans were unreal – they posed themselves. The trainers would tell them to pose, and they'd just do something silly all on their own.
As we drove in, we saw immediately the magnitude of Nong Nooch. There was a huge lake on our left, with a small island in the middle, rows of Royal Palms on either side of our driveway, and dozens of unbranched Schizolobiums over 40 feet tall on the northern end of the lake. There were also a lot of formal gardens with fancy designs made out of tons and tons of tiny plants. From afar they looked amazing.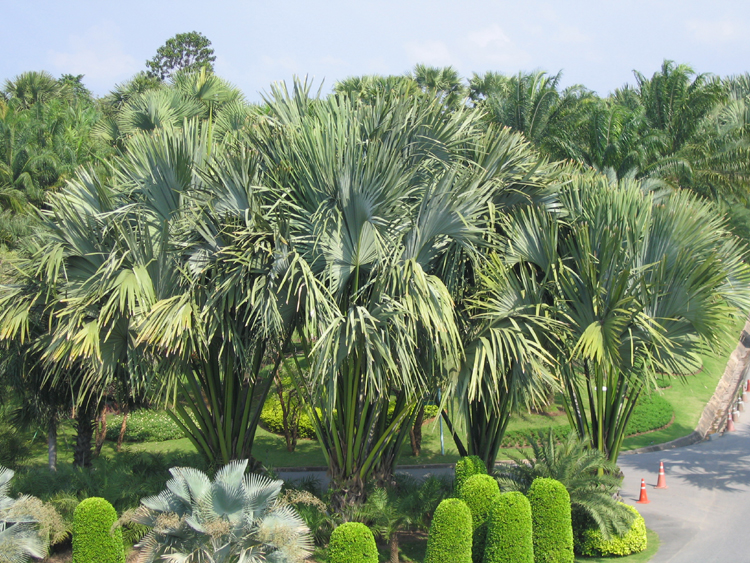 We started our garden tour by walking over to the palm area, or what we thought was the palm area. We were walking towards the area marked "palm garden," but the map had no scale and palm garden was on the far side, so we had no idea if we'd gone too far. After we walked for a bit, we got to an area with palms and nothing but palms, so we figured that was it. There were some enormous Coryphas and Lodoiceas – very impressive. Lodoiceas are very rare in cultivation – they are endemic to the Seychelles off of East Africa . Recently they've started to be planted in many more places, but still fairly rare. They have massive fronds that are mostly undivided, and a "seed" over 40 pounds that resembles a double coconut, hence the common name Coco de mer.
The majority of the Coryphas, which were in several large groves, were the umbraculifera species, which seemed much more impressive than the other Talipot palm, Corypha utan. They had gigantic fronds, and the spines were half black and had thorns. Very imposing. The palm area as a whole was fantastic – everything was very healthy and very tall. In addition to the Coryphas and Lodoiceas, there were a lot of Kerriodoxas, Phoenixes (mostly rupicola and sylvestris), Phoenocophoriums and Oncospermums (kind of look like more graceful coconuts, without the nuts).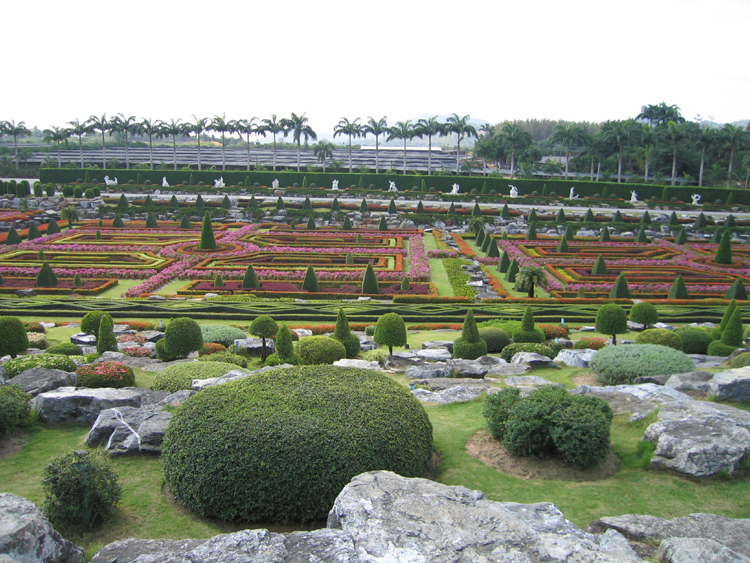 After walking around for a bit, we realized we weren't even in the palm garden. This place was much, much bigger than we thought. Once we figured out where we were, we started walking towards the "actual" palm garden. First we crossed over the main road – there are sky bridges all over Nong Nooch – and the view was amazing. There were blue palms (probably Bismarckias and Copernicas) lining the road. Then we came upon this enormous, enormous, French garden. Justin isn't normally a fan of the ultra-manicured, super formal French gardens, but this one was unreal. We couldn't get a picture of the whole thing, even with the wide angle lens on the camera. The layout of the garden reminded Justin of what he remembered from Peterhof in St. Petersburg . Then we saw this mini-Stonehenge surrounded by more manicured plants. Eclectic does not begin to describe this place.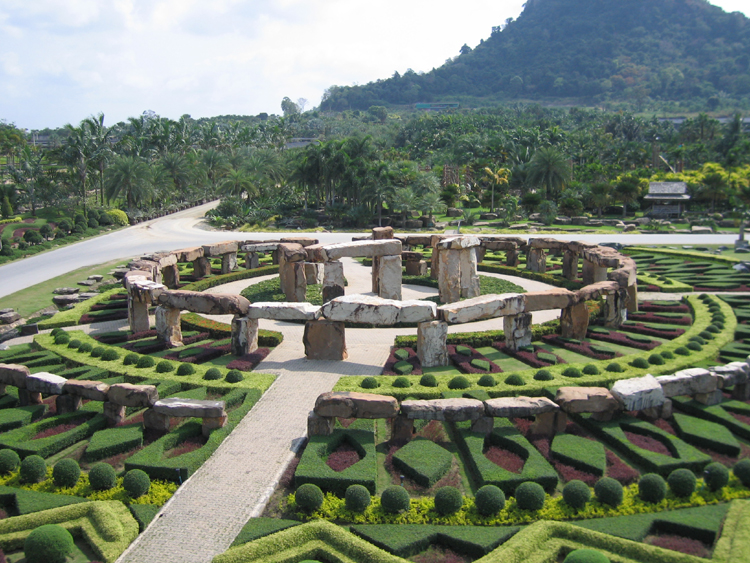 While wandering around near the French garden, however, we realized that although we were very close to the Palm Garden , we couldn't get there from where we were. We were still up on the sky bridge level, and there weren't any stairs near us to get down to the ground level. So we walked back a ways, then walked down to the ground level. Then we took a long long walk around the back of the French garden, finally arriving after seemingly forever at the Palm garden.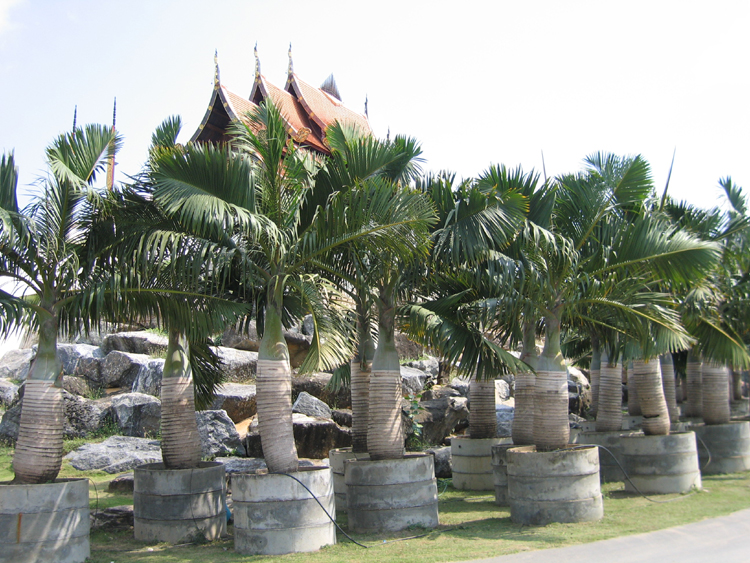 After all this, to our disappointment, the Palm garden was a big let down. While on the walk there we had passed a large grove of bottle palms in containers, there was nothing immediately noticeable about the Palm garden itself. Also, it seemed like it was under construction, and there were no paths going through it. So while the journey was very nice, the destination was anticlimactic. We think that the area we were in earlier in the morning was the "old" palm garden, and the "new" palm garden isn't quite done yet.
We were pretty tired from all the walking, so we walked back towards the lunch area. The food itself wasn't that good, but the location was very nice. It was in a shaded area underneath some raintrees, near a waterfall, overlooking the main lake near the front of the garden. It was included in the price of what we paid for the day (something like $15), so all we had to pay for were the cokes.
After lunch we walked over to get our pictures taken with the other animals, but they weren't there. We figured they brought them out only around the times the buses showed up, but fortunately the afternoon tour buses hadn't arrived yet, so we decided to come back in a little bit, about 15 minutes before the buses. In the interim we walked around the central area of the garden, and there was a little bit of everything. There was a mini-zoo, a massive mini-train set, some ostriches, a rock climbing wall, and everything in between. We then walked over to the heliconia garden, which didn't have that many heliconias, but did have some nice bamboo and palm trees, including a bunch of Pinangas.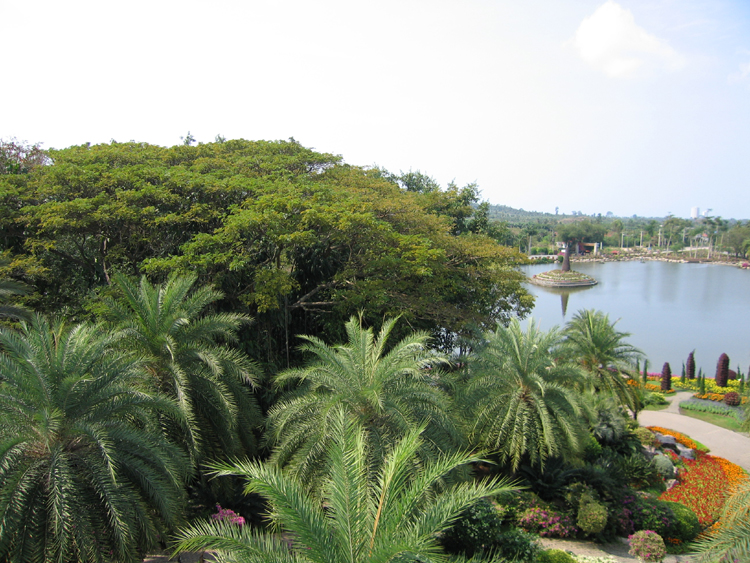 While we were walking around the heliconia garden, we saw some staff members start to move the animals for the picture taking. So we walked back to the front to get our photos. The cheetah was far more sedated than the black panther from the morning. Still, Crystal wanted no part of the big cat. We both had our picture taken with the sun bear, who was easy to pose with because of his bottle. We're not sure if the milk was laced with heroin, but once he got that bottle he did nothing but guzzle the bottle, so the staff just moved him around into whatever pose they wanted.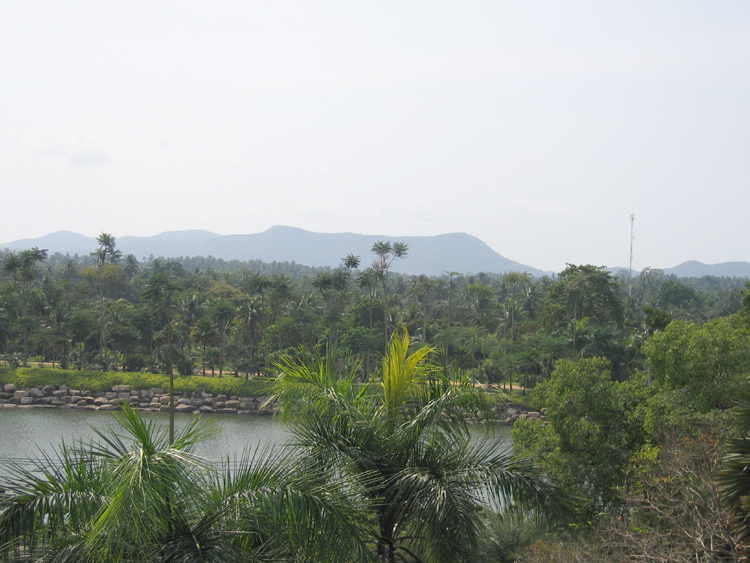 Then we got up some more of the sky bridge to check out the garden from the canopy level. At one place we were able to get way up high and get some very good panoramic photos of the garden. In the same area there was a cool tree (we don't know what kind) where all of the leaves on the branches are at the same angle coming off the branches, and none of them droop. In other words, if you cut off a branch and laid it on the ground, it would lie completely flat. Very interesting. We went by the administration building looking for the plant curator, whose name Justin was given by one his acquaintances on a tropical gardening website. Unfortunately, the curator was in Mexico, probably less than 100 miles from our home.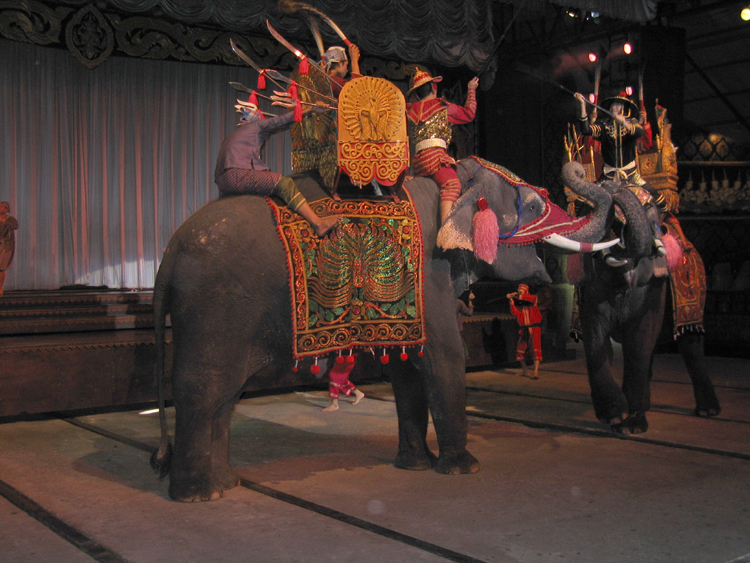 Around 3pm we went to the cultural show, which Nong Nooch was supposedly "famous" for. It was very good, but not world class like the garden. There were several traditional dances, some Thai boxing, some sword fighting, a re-enaction of old battles, complete with people fighting aboard elephants, and last but not least elephants dancing and drumming. We knew they were smart and could do quite a bit, but didn't know that they were this trainable. Straight from the cultural show we went to the all-elephant show (which was outdoors), where the elephants did even more amazing feats. They painted, and a couple of them played soccer, darts, basketball (one of them was really good), and bowling. Whenever they did something good, they pranced for the crowd.
By the time this was all over, it was almost time to get on the bus to go back, so we did some souvenir shopping, then made our way back to the hotel. We were the very last people to get off the bus, which was frustrating, because Justin wanted a picture of the sunset, and the sun started setting rapidly while we were stuck on the bus. Justin got his photos with about one minute to spare. The sunsets in Pattaya were very nice because of 1) the smog and 2) the offshore islands. The sun always looks better when it's setting over something other than 180 degrees of water.
We found a suitable replacement for the Sugar Hut restaurant, finding an authentic Thai restaurant fairly close to the hotel – P.I.C. kitchen. There was one other table, and those people left about ten minutes after we got there, so for most of our meal we were the only ones there. Again, I think the two of us ate for less than $10. Justin ordered a big coke, and it was a big coke – almost 2 liters. From there we walked to Alcazar, supposedly the "best" (whatever that means) transvestite show in the world. Who knows whether that is out of 10 or out of 10,000. Anyway, we figured the chance to go to the "best" of anything on a trip was worth a look. Alas, the show we wanted to go to was sold out (Japanese tourist buses), and the next show was quite a bit later, so we just went back and tried to sleep on our board…er, bed.
On the walk back (which was less than five minutes), we got the cross-section of Pattaya. Transvestite shows, nighttime shopping bazaars with fruits, barbecued meat, tourist traps, a shooting range, "massage" parlors, strip clubs, and sports bars. Pretty much everything was there. Although we didn't see it on this five minute walk, Pattaya also supposedly has some very good miniature golf courses and go-cart courses. Go figure.
Neither one of us were big fans of Pattaya, despite the fact that there was quite a bit to do in such a small area and that it cost by far the least of all the places we visited. If we come back, it will be as a day trip (albeit a long one) from Bangkok to Nong Nooch.