Of All The Things...
I arrived in Frankfurt a little after noon Central European Time on 7 January.  The skies were gray, but without rain.  The terminal was quite empty and cold, and there weren't too many people in line for the service desk.  There were two people working, and one of them had a guy who was angry at the world (perhaps appropriately so, I have no clue what his backstory was), and someone who had nearly the same issue I did.  I tried to eavesdrop on her conversation, and it seemed pretty straightforward, so I took mental notes of what to say and what to ask for once I got to the front.  Basically what the process entailed was the person helping me calling down to people in the luggage transfer area, giving them the baggage IDs for my three pieces of luggage, and them physically removing them and checking them through to Tenerife.  There's nothing more I could do on my end, so I hoped this all would work out, and figured I'd just see for myself in about 24 hours.
No lounges were open in Terminal Z, so I couldn't pass the time there.  I went down to the immigration area, which was completely empty, just to ensure that my Spanish visa was fine and that they'd have no issues passing me through the next day.  They confirmed that was all good, so I just went back upstairs into Terminal Z and headed to the My Cloud transit hotel, early.  As I was checking in, others came into the hotel to get a room, only to be told it was completely booked, so I was thankful that I'd taken care of that beforehand.
In the room, I had nothing to do for about 18 hours.  The bags were checked, my visa looked fine to the immigration folks, I was already in the airport, so I had nothing to do but wait.  Well, I could certainly check the news, but the wi-fi wasn't working in the hotel, or anywhere in the terminal for that matter.  So I turned on data roaming and made sure not to click any videos or go to any sites with a bunch of ads.  Google News gave me an alert that it isn't available in Europe.  So this basically left me with Twitter and BBC.  Everything I read was appalling, just truly appalling.  I was disgusted and embarrassed and about 20 other adjectives, all at once.  I wanted to commiserate with Crystal, but it was something like 5 or 6 in the morning Pacific time, so I held off.  Eventually we texted back and forth, with lines such as "so that was some day yesterday" and "I missed 95% of it."  She'd spent the evening at her parents' place, and apparently the current events weren't really discussed.
In the late afternoon, it got to be about the time that the dogs' cargo flight should have been landing, so I kept looking out the window at the runway, hoping I might see their plane.  The problem with this, however, is that I was in Frankfurt, and they were on a Lufthansa plane, so about 95% of all the planes were Lufthansa, and I didn't know what their specific plane would look like.  I never did identify any plane that looked like it might be theirs.  In the evening I got a sandwich, some potato chips, some water, and some wine, from the one store open in the terminal.  It certainly wasn't the greatest first meal as a European resident, but at least it was the first meal as a European resident.
I couldn't get back to sleep after waking up around midnight.  I had the idea to check the Lufthansa cargo manifest that we'd been provided by the transfer folks, and using the Lufthansa cargo website, I was able to confirm that the dogs had, in fact, landed in Frankfurt and been transferred off the plane.  I texted Crystal "[it's] a little weird tracking them like a package :-)."  Looking at my email, I saw that I'd passed 100 YouTube subscribers on our channel, which seemed like an accomplishment.  We have a lot of videos, but we don't really add stuff constantly, normally just after we return from one of our trips.  So I'm happy we have any subscribers, let alone 100.  I hope they like the videos we put out.
Since I couldn't sleep anyway, I went through immigration at 06:00, well in advance of my 09:15 flight.  But I figured just sitting in the hotel room, with no wi-fi, was probably worse than whatever was on the other side of immigration.  There was no problem with the visa, I got my stamp, and I was now officially in the EU.  In the EU terminal (I think it was Terminal A, not sure, doesn't really matter), there was a Lufthansa lounge that was actually open, so I went in there.  They didn't have any food or drink except for takeout, but at least their wi-fi was working.
Crystal was thankfully still up in California (it was around 22:00 there), and we caught up a little bit.  She said that she finally got approved to do her Global Entry Interview (she'd applied shortly before COVID brought everything to a halt).  The irony, of course, was that she was about to leave the country, so needed to get it done in the next couple of weeks.  The only way to make it happen was to drive up to LAX on 17 January, at night, since none of the San Diego locations had any openings for a full year.  Yes, a full year.
There were only a dozen or so people in the whole lounge, so it was whisper quiet.  There was a large TV on the wall that was showing the news, I'm presuming CNN International.  As I texted Crystal "CNN has SO many videos, each more depressing than the last."  I hadn't really seen any of the insurrection, just read about it, and it was 100 times worse watching the MAGA cult scale walls, smash windows, assault police officers (so much for backing the blue, or whatever), desecrate the Capitol, parade Confederate flags through the Capitol, and more.  Some of the messages I sent Crystal:
"I can't hear the TV – thank goodness – but can read the chyrons"
"'World expresses dismay at Trump-led riot at US capitol'"
"Really uplifting stuff"
Of all the days to leave the country, it seemed very fitting that I left on 6 January.
I went over to the gate about an hour before takeoff.  I looked for the dogs, but could get a view of only the right side of the plane, and everything seemed like it was getting loaded from the left.  On board, I was near the front, maybe in the bulkhead even.  There was a lengthy delay while they de-iced the plane with whatever chemicals they use for that, and I hoped the dogs were doing okay during all of this.  Eventually the plane took off, and flew west, then south.  I was surprised to see a substantial amount of snow over northern Spain, but apparently there had just been a large storm that had dumped snow all over the country.  I got some champagne to go with my breakfast, and did a minor celebration to this all working out, at least as far as I knew.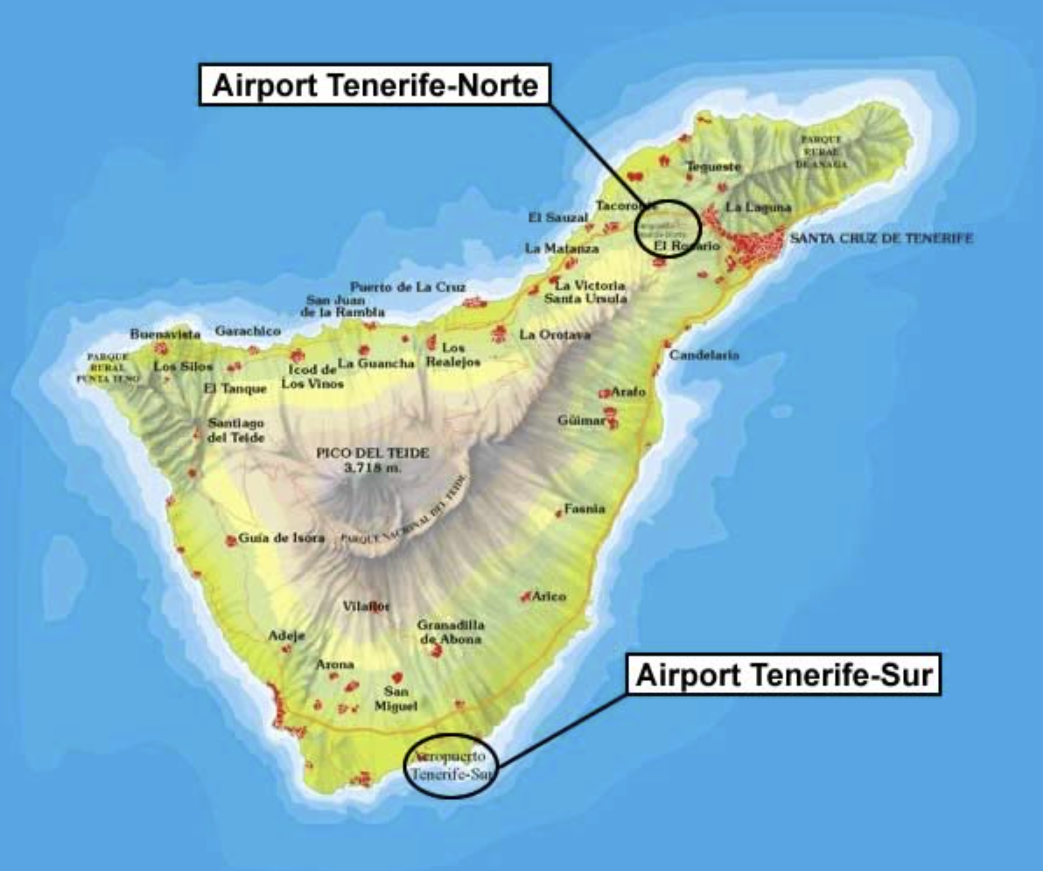 Tenerife has two airports, Tenerife North and Tenerife South.  Tenerife North is close to the two largest cities on the island, Santa Cruz and La Laguna.  Tenerife South is close to all the tourist resorts.  So Tenerife North has a ton of domestic flights, as people go to see family, or conduct business, on the mainland.  By contrast, Tenerife South has a ton of international flights.  Puerto de la Cruz is much closer to Tenerife North, but it was much easier (and by that, I mean extremely difficult instead of impossible) to get me (and the dogs) on a flight to Tenerife South. 
| | |
| --- | --- |
| | |
I'd never actually been to the South airport before.  The first time we visited Tenerife, it was on a cruise ship.  The second time we visited, we flew into and out of Tenerife North.  So I wasn't sure how we were going to approach the island, and whether I'd recognize anything.  We actually flew down along the west coast, but I couldn't really tell, as I was on the right side of the plane, looking east, and could see only another island, which I eventually determined was La Gomera.  We flew above the channel between the islands, then made a left turn and came in from the west to land at the airport on the south coast.  It bears some resemblance to the Kona Airport, which I suppose is not surprising given that Hawaii and Tenerife both have wetter windward sides with more locals and less tourists, and drier leeward sides with more tourists and less locals.
The plane landed at 15:30, and I was one of the first people off the plane.  I walked down this corridor to an area where they checked everyone's QR code and took everyone's temperature, and it was very straightforward and quick.  From that area, baggage claim was right there, and all three bags came off in short order, seemingly in good shape.  I had taken screen shots of the instructions Charlotte had given me for getting over to the cargo terminal (so that I didn't need wi-fi or cell signal to see them), and now that I was in the baggage claim area, I was able to orient myself.  My bags fit on a single baggage cart, so I just exited the terminal and turned right.
It was a warm sunny day, albeit with a pretty stiff breeze.  I just kept walking down the sidewalk to the East, past the end of the terminal, then past the taxi stand (which was noticeably very empty), down a little slope, and then onto a street that headed down to the cargo terminal.  It wasn't the easiest path to push a baggage cart, but it was do-able.  Once at the cargo terminal, I entered the lobby and told the person there I was waiting to meet Charlotte.  He seemed to know her, so I just waited for her to arrive.  She thought I was going to meet her at the passenger terminal, so she was just a couple minutes away.
When she got there, she came bearing bad news.  There was an issue with the dogs' release papers.  All of my paperwork was fine, as was the airlines', but there was a "release form" or something that needed to be signed by the island's veterinarian.  From what I gathered, for animals coming in from somewhere outside of the EU, someone needed to look at the various documents to ensure they looked correct, at which point he/she would sign the release form, and that would be that.  But today, the veterinarian was not around, and no one could seem to find him.  The person at the desk wouldn't release the dogs without the release form.  He wouldn't even release the dogs into Charlotte's care, to stay at her kennel, over the weekend.
Slowly but surely it became increasingly clear that after the two flights the dogs had already been on, and after arriving safely in Tenerife, they were now going to spend close to 72 hours in an airport warehouse, with no facilities for food, water, etc.  Charlotte was on the phone with Charo, who I gathered was the person in the government in Santa Cruz who arranges the logistics for dogs coming into the island.  Charo was in tears, because she couldn't figure out what the problem was, but knew it was totally unacceptable to leave two dogs in their crates over the weekend.  She was calling everyone she could in Santa Cruz, and eventually determined that the government vet was on holiday, but that no one was covering for him today.  Charlotte asked Charo for his cell phone, but Charo said no one seemed to have it, which I firmly believed was a crock of shit.  It was now closing in on 17:00 on a Friday afternoon, and everyone was quitting for the weekend.
Once it became clear there was not going to be a happy ending, they at least let me see the dogs.  We entered the warehouse from the lobby, they opened up a giant door, and the dogs (still in their crates) were driven up to the door.  I collapsed on the floor and kept apologizing to them, telling them how sorry I was that they couldn't leave yet, that I was sorry I dragged them halfway around the world, sorry they were going to be all alone all weekend, sorry for a thousand other things.  There were lots of tears, and I can't imagine it was comfortable for the other people there.  They were doing their job, and seemed to understand that this was less than ideal – about as non-ideal as possible – but no one seemed to know what to do.  This seemed to be a literally unprecedented situation, made all the worse that it was a Friday afternoon instead of some other day where the dogs would have to spend only one night in the warehouse.
One of the employees showed me some pictures of his own French bulldog, who looked almost like Lola.  I spoke enough Spanish to have a very basic conversation, and he said he would feed them and give them water.  It helped some, but not nearly enough.  Eventually they had to do everything but drag me from the warehouse back into the lobby, and eventually outside.  The whole thing was gutting.  Of all the things that could've gone wrong anywhere along the line, this was something that had never entered into the equation.  We got flight arrangements in the middle of a global pandemic.  We got health certificates sent out on the last day of the calendar year.  We got the dogs onto two planes, with an overnight transfer in Germany.  It was so cruel, however, that once they actually got to where they needed to be, they couldn't leave, and now were at risk because of a vet going on vacation and no one around to cover for him.  There were a lot more tears, and then it was figuring out next steps.
I decided I wasn't going to go up to Puerto this weekend.  Charlotte's friend Dani was slated to drive me and the dogs up to Puerto, but I figured it was better to spend the weekend close to the airport, hoping that either the dogs would be released or that, at the very least, I could come see them.  I didn't know the area at all, however, as we'd not ever visited this part of the island.  I did know there must be dozens of hotels, however, and that almost none of them would be full because of the pandemic.  I asked Dani if he could just recommend a place close to the airport, and to take me there.
Dani recommended the Santa Barbara Golf and Ocean Club, just west of the airport, and he drove me over there.  [Coincidentally, in the picture above on the right, the hotel is just off the edge to the left.] I checked in, deflated.  The woman at the front desk wanted a PDF of my negative COVID test, but the format I received it in wasn't a PDF, and on my cell phone I wasn't able to create one for her.  I was on the verge of losing it (again) when she eventually just okayed it.  I went up to the room, in the southwest corner of the property, and dropped all my stuff.
The room had not been used in some time.  It smelled like fresh paint, and it was a bit overwhelming.  I opened as many doors and windows as possible and hoped the fresh air would help things.  Luckily this was Tenerife, so doing that in early January wasn't an issue. The unit was pretty sizeable, with a kitchen, a dining area, a living room, and then a separate area with the bedroom and bathroom.  Both the bedroom and the living room had sliding glass doors that went out onto a small balcony, and the balcony had great views of the ocean and the setting sun.  If I was there under other circumstances, I'm sure it would've been much more enjoyable.
After I logged onto the wi-fi, I sent an email to everyone back home, letting them know what had transpired with the dogs:
I've seen them, and they seem fine.  There has been a hiccup with their customs clearance, however.  The person who checks the USDA paperwork went on holiday, and did not put anyone else in charge, despite being aware for the past 2-3 weeks that the dogs were coming today.  No one ever told Charlotte (the person we booked our transport with) that there was an issue until we arrived today.  Because of this, they could not get anyone to sign off on the paperwork before they closed for the day, so they are currently in the holding area, which is staffed 24/7.  It is quiet, and it's basically just them and the person at the desk.  There are no other dogs in the area, nor any machinery making noise.
Charlotte is working feverishly to get them released ASAP, and several people are trying different things, but it is a Friday afternoon, so they will likely have to spend the night there.  I hung out with them until the office closed (to the public) at 3, and gave them food and water.  The dogs seemed in good spirits - much better than mine.  I booked a hotel right near the airport, so that I can easily get back to the airport tomorrow when the office opens to the public again.

I wish I had more information to give you, and better information to give you, but you know what I know.  Charlotte indicated this has literally never happened before.  She's crushed as well, as is the transit paperwork woman who I am led to believe is the intermediary between Charlotte and customs.  I met with one of the employees, who allowed us to hang out with the dogs, and he has a Frenchie the same color as Lola and Pig.  Everyone is very nice, but bureaucratic BS seems to be the problem, and a Friday afternoon is sadly pretty much the worst time for dealing with this.
Please don't call, as I won't have any more information, and I'll just start crying again.  I have no doubt things will work out, but this isn't how I imagined the day going.  I suppose I should just find solace in the fact we arrived, and we are safe.  Maybe after about 5 cocktails, and some sleep, I'll feel a bit better.
I hope you all have a good day, and I hope this doesn't ruin it for you.  Love you all.
Justin
Then I contacted the Airbnb person in Puerto, who was expecting to let me into the property today.  I filled her in on what had happened, and that I wouldn't be coming today, and that as soon as I knew when I was actually arriving, I would give her a head's up.  She was thankfully very understanding and supportive.
My next stop was to head down to the small store that was on-site.  I got a frozen pizza, some potato chips, some water, some soda, and some rum.  I came back upstairs and made the pizza, ate about half of it, and then I got to work seeing what I could do to help jailbreak the dogs.  I found the Twitter account of the Spanish equivalent of the USDA, who seemingly was the entity in charge of allowing animals into the country.  I found an email address for the entity seemingly in charge of the airport (and its cargo), and wrote them.  I figured it was a shot in the dark, but had a better chance of success than doing nothing. Eventually I just got too tired (I'd been up since midnight), and dozed off, hoping for better luck tomorrow.