We got up on time at 7am again, happy to not have any jet lag. We got breakfast, and on the way back from breakfast to our room we spotted Sumaya, so we got ready a little early so we could leave a little early.
We headed out east on the N2, passing the airport, before turning off in Somerset West. On the way we caught a glimpse of Gordon's Bay, which Sumaya had pointed out the day before when we were at Cape Point. On the drive Sumaya told us a bit about the townships and what goes on in them. At one point she and her husband lived in a township (her husband is colored), so she was speaking from experience. She told us about how all of the shacks pulled power from the power lines, and how because of that its nearly impossible for the power companies to gauge how much power they need, because there are no reliable statistics. As we drove by, it was easy to see what she was talking about.
| | |
| --- | --- |
| | |
Our first stop of the day was at Vergelegen, one of the oldest, largest and most renowned wineries in all of South Africa. It sits atop an enormous plot of land, including some giant camphor trees started in the 1600s. The giant back lawn was surrounded by bamboo, Camellias, and Coral Trees. There was even a stream running along the northern edge of the property. The main house was very nice as well, but we could not take any photos from the inside, just outside. The grounds had an amazing backdrop as well, the surrounding mountains.
After we had walked around for awhile, we finally sat down for our wine tasting at a nice outdoor patio. Justin ordered the Sauvignon Blanc 2006, the Merlot 2004 and the Cabernet Sauvignon 2004. Crystal ordered the Semillon 2004 and a couple others she cannot recall. All of the wines were good, but the Merlot 2004 stood out. Again, the view from the tasting area was phenomenal as well.
We left Vergelegen, and made the two minute drive to Morgenster, which was literally next door. We had picked Morgenster because in addition to wine tasting, it was known for its olives and olive oil as well. Just like at Vergelegen, we were literally the only patrons there. We picked an outdoor table, with a view of the mountains as a backdrop.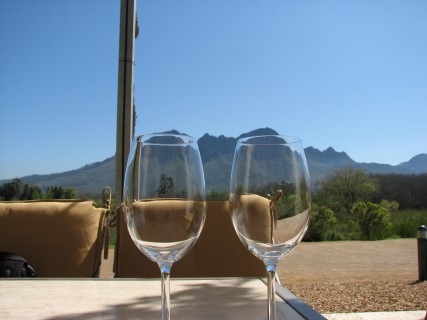 We started by dining on some olives. There were 3 kinds, Kalamata, Mission , and a green olive called Nocellara Del Belice. There were also 2 olive pastes, one from the green olives and one from a mix of the two black olive varieties. We liked the black olives better, but liked the paste from the green olives better. After the olives, they brought out the olive oil, which we actually sipped to taste. First there was the regular olive oil, then one with a lemon taste to it, and finally one flavored with white truffles. We liked the regular flavor the best, although the other two were definitely interesting and novel.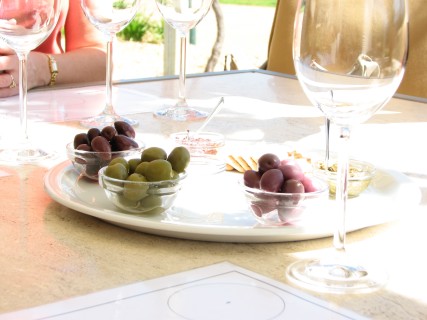 Then they brought out the wine – they had only two types, which came from the same grapes. The first was the Lourens River Valley , which was more merlot and less cabernet (sauvignon and franc). The second was Morgenster, which was more of the cabernet and less of the merlot. We could tell a difference between the two, but only that the Morgenster was "less smooth," whatever that means. We ended buying a box with the Lourens River Valley wine, the green olive paste, and the regular olive oil.
We left just before noon , and since the restaurant we chose – D'Vine – was again right next door (maybe a 3 minute drive this time), we got to lunch a little early. Since we were the only people, they had no issue seating us early. We got a lovely table in the middle of the courtyard, again with the mountains off in the distance. There was also a nice mini-waterfall and pond for some ambience.
We had found D'Vine after searching through the restaurants at the various wineries. None of them sounded bad, but none of them sounded outstanding either. So we searched for restaurants in and around Somerset West, figuring we would do two wineries before lunch and two after. D'Vine had received excellent reviews on the Fodors board, and the menu we saw online also looked good, plus it was right around the corner from Vergelegen and Morgenster.
After olives, olive oil and bread, we did want any appetizers, so we just ordered main courses and wine. Crystal and Beverly both good the seafood platter, while Justin and Rick both got the South African game sampler. The seafood platter had Kingklip and Red Roman fish, mussels, lobster, crayfish, and prawns. The Red Roman fish was especially good, easily Crystal 's favorites. The South African game sampler had Kudu, Springbok, Ostrich, and Karoo Lamb. All of them were very good, but the Karoo Lamb and the Ostrich were excellent.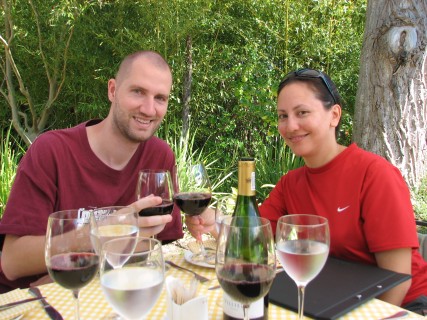 After lunch, we headed north up R44 towards Spier, a monster winery in Stellenbosch. The winery itself is nuts, and the wine was described as "average," but we went there for something else. We saw a yellow bird, which was nice, but that wasn't what we went there for either. They have a cheetah outreach program, with cheetah encounters. These cheetahs came from large litters where the moms had neglected one of them, injured animals, and other places. These animals were never going to be released into the wild, so they were raised around humans with the hopes of releasing them into zoos or game reserves where they would be safer.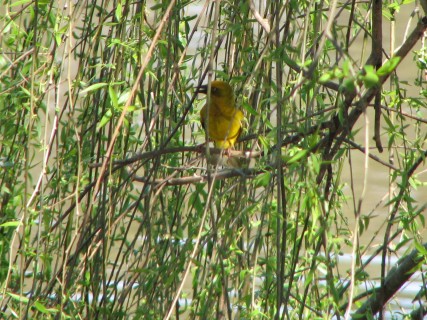 First we hung out with four kittens, named for the military alphabet letters W-X-Y-Z, Whiskey, X-Ray, Yankee and Zulu. One of them was a "King Cheetah," a recessive gene where instead of spots, there are numerous black stripes down the back of the cheetah. This is a big issue in the wild, where the extra black makes them more visible in the bush and also causes them to overheat. Some of the cheetahs played, but most them just lounged around, either watching what was going on, napping, or cleaning themselves. We left the enclosure for the cubs, and went over to an enclosure with an adult. This encounter was more regimented, and we were always told to stay behind the adult. There was also a handler there the whole time near the cheetah's head. We were able to get a nice photo with us and the adult, Enigma, however.
We left Spier and drove around Stellenbosch a bit, then headed up north towards Paarl. The word paarl is afrikaans for "pearl," which refers to a number of large granitic formations in the area that shine like pearls in the bright sunshine. In Paarl we stopped at our last winery of the day, Seidelburg, which was in the foothills with a panoramic view of the mountains around. We went there because there is a glass blowing factory on site, and there was a store with dozens if not hundreds of gorgeous glass sculptures. Alas, they were very expensive, and would have cost a fortune to ship home because of how breakable they were. They were very nice to just look at, though. Ironically, this ended up being our favorite winery in terms of the wine. We had an MCC Brut sparkling wine, a Chenin Blanc, an award winner called Un Deux Trois, and then two reserve reds, a Syrah and a Cabernet Sauvignon, a dessert wine called Muscadel. All of them were fantastic.
| | |
| --- | --- |
| | |
After that we drove back to Cape Town, arriving just before 6pm . Justin fell asleep shortly after returning. Crystal went down to the library and read a bit, then came back up to the room and exercised a bit, then went to sleep.